*Heads up- Affiliate links below. I am not a doctor. Consultant with one prior to consuming any of the below. All products I purchased with my own money and am not compensated unless you would like to purchase through MY LINK or join my expanding team!
Per Young Living's website:
ICP™ helps keep your colon clean with an advanced mix of fibers that scour out residues.* A healthy digestive system is important for the proper functioning of all other systems because it absorbs nutrients that are used throughout the body. ICP provides ingredients such as psyllium, oat bran, and flax and fennel seeds to form a combination of soluble and insoluble fibers. Enhanced with a special blend of essential oils, the fibers work to decrease the buildup of wastes, improve nutrient absorption, and help maintain a healthy heart.* ICP provides two grams of dietary fiber, one gram of soluble fiber, and one gram of insoluble fiber per serving.
* These statements have not been evaluated by the Food and Drug Administration. Young Living products are not intended to diagnose, treat, cure, or prevent any disease.
How to Use: Mix 2 rounded teaspoons with at least 8 oz. of juice or water. If cleansing or eating a high-protein diet, use 3 times daily. If eating a low-protein diet, use once daily. Drink immediately as this product tends to thicken quickly when added to liquid. Tastes best in carrot juice, apple juice or smoothies.
Notice: Using this product without enough liquid may cause choking. Do not use this product if you have difficulty swallowing. This product contains Aloe Vera (A. barbadensis) leaf. Read and follow directions carefully. Do not use if you have or develop diarrhea, loose stools, or abdominal pain. Consult your physician if you have frequent diarrhea. If you are pregnant, nursing, taking medication or have a medical condition, consult your physician before using this product.
Keep in a cool dry place. Do not expose to excessive heat or direct sunlight. If pregnant or under a doctor's care, consult your physician.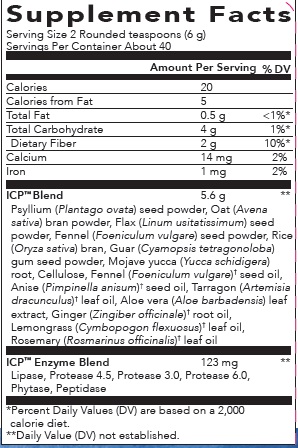 Now that we got that out of the way, let's get caught up on my health journey. Do I still have Crohn's Disease? Well, of course! That isn't going away. But, I can choose healthy products to ease symptoms. Crohn's is an autoimmune disease and I can choose Thieves Essential Oil to support my immune system. Or, Cistus Essential Oil to support the appearance of healthy skin (that will be a whole 'nother blog post to come).
Sometimes, my intestines just don't want to move waste along. But, then there are other times that I am running for the bathroom within 15mins of a sip of water. It's like playing Russian Roulette at the dinner table.
My biggest concern for products like this, is will it give me horrific stomach cramps? I am talking the type where I am headed to the ER, praying they aren't prepping me for surgery. I'm OK with farting Chris out of the room, like I just ate a bag of brussel sprouts. Just don't want to get C-Diff while in the MRSA house.
I love that Young Living added Fennel and Ginger Essential Oils. Those two normally do a great job at soothing my tummy when applied topically. How does it smell? Just like fennel after dinner candies at our local Indian buffet. Trust me, this is way better than half that toxic crap Mom gave me as a kid (sorry Mom! Love you tons!).
Here is the smoothie recipe I tried. I will come back soon with a full verdict. But, for now, enjoy your Monday evening!
8oz Your choice of milk (I used a new unsweetened coconut milk I found at Publix)
2 Rounded teaspoons ICP
2 Scoops Balance Complete
1/2 Frozen Avocado
4 Drops Tangerine Essential Oil
Hope you all have a fantastic Monday! Don't forget to go out and do something awesome for someone!